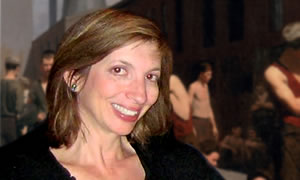 My research focuses on the social and cultural history of France from approximately 1880 to 1914. My first book, The Notorious Life of Gyp: Right-Wing Anarchist in Fin-de-Siècle France, relies on biography as a privileged genre for research in interdisciplinary French Studies.
Through an examination of the life of the prolific popular novelist, anti-Semitic propagandist, and salonnière, Gyp, I attempted to elucidate many of the social and political tensions in fin-de-siècle France. My discovery of a trove of correspondence between Gyp and her publishers led me to a new teaching and research field, book history and print culture studies. In my second book, The New Bibliopolis: French Book Collectors and the Culture of Print, 1880-1914, I take my work in book history in the direction of esthetics. Taking as a point of departure the cult-like love of luxury books by a new cadre of upper-bourgeois bibliophiles during a uniquely artistic (and materialistic) era, I analyze subjects as diverse as the relationship between book collecting and esthetic and cultural currents such as Symbolism, dandyism, and Art Nouveau; the gendered nature of book collecting; and the increased collaboration between authors and illustrators. My current book project is an edition of the unpublished private diaries of Henri Vever, a prominent Art Nouveau jeweler and art collector. I aim to reestablish Vever as an important figure in his own right and to rely on his life as a prism through which to view the myriad topics it illuminates in the history of the turn of the century: daily and private life; the 1900 Paris World's Fair; the Parisian art market; the development of technology in the form of the bicycle, photography, the telephone, and new printing techniques; reactions of private citizens to contemporary events such as the Dreyfus Affair, the Spanish-American War and the Boer War.
My teaching encompasses courses ranging from first-year seminars to graduate courses in the Department of French and Francophone Studies (La Belle Époque; Decadence; Paris 1900; History of the Book in France; French civilization survey courses), the Jewish Studies program (France and the Holocaust in Film and Literature), and the International Studies major (international human rights). Beginning in Fall 2011, I will be a participant in the Distinguished Honors Faculty Program in Penn State's Schreyer Honors College, an exciting opportunity that will allow me to organize a variety of programs in my areas of expertise and to work closely with SHC students.
On a personal note, I am a native New Yorker who loves cities, travel, cooking, singing, and antiquing.