Book manuscript in progress:
Henri Vever, Cahiers, 1898-1901.
[Critical edition of the notebooks of the Art Nouveau jeweler and art collector Henri Vever]
Published works:

The New Bibliopolis
The New Bibliopolis: French Book Collectors and the Culture of Print, 1880-1914.Toronto: The University of Toronto Press (series in Book and Print Culture), 2008. Pp 316
The late-nineteenth century in Europe was a period of profound political, social, and technological change. One result of these changes was the rise in France of an upper-bourgeois bohemian class. Many of its members stimulated interest in unique forms of artistic expression such as illustrated books. On account of their influence, an atmosphere of intense bibliophilic activity came to define French culture at the turn of the century. "The New Bibliopolis" explores the role of amateurs in promoting the book arts in France during this period.
Drawing on extensive original research, Willa Z. Silverman looks at the ways in which book collectors supported print culture. She shows how, through the admiration demonstrated by collectors for this medium, print came to be a crucial part of popular conceptions of aesthetics. As collectors, publishers, authors, designers, and directors of bibliophile societies, reviews, and small presses, these book lovers became passionate and prolific interlocutors of the printed word in a uniquely artistic epoch. Silverman analyzes subjects as diverse as the relationship between book collecting and aesthetic and cultural currents such as Symbolism; the gendered nature of book collecting; the increased collaboration between authors and illustrators; and the marketing of fine books at international exhibits.
"The New Bibliopolis" is an important contribution to the study of book history, French sociocultural history, and fine and decorative arts.
Reviews of The New Bilbiopolis
Elizabeth Mix, in Nineteenth-Century Art Worldwide 8.1 (Spring 2009)
"The latter part of the nineteenth century in France witnessed an unprecedented explosion of all variety of printed materials. Print culture in France is tied as much to social issues as it is to politics—with an increase in the reading public (fostered by "reading rooms" in addition to less formal sharing of printed materials) as well as the rise of the bourgeoisie, and the development of specific "middle class" novels and illustrated journals...."






Denise Z. Davidson, in European History Quarterly 20.2 (April 2010): 372-74.
Melissa Beattie-Moss, "A Taste for Fine Books," Research Penn State
Patrick M. Valentine, in Libraries and the Cultural Record 44.46 (2009): 494-95.
Charles Rearick, in H-France Review 9 (June 2009) 76: 308-10.
Ainsley Brown, in Nineteenth-Century French Studies 37.3-4 (Spring-Summer 2009): 322.23.
Peter Schulman, in The American Historical Review 115.3 (June 2010): 901-02.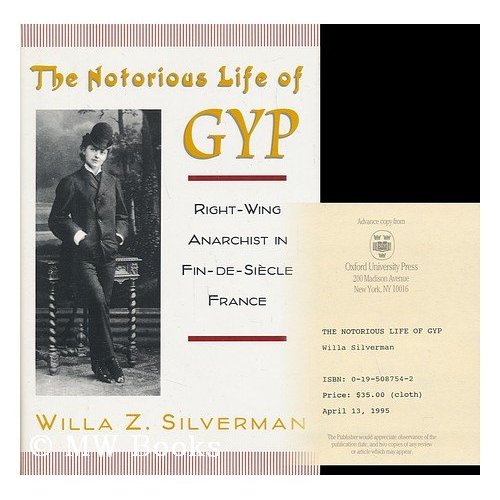 The Notorious Life of Gyp
Oxford UP, 1995; and in French translation, Gyp, la dernière des Mirabeau, Plon-Perrin, 1998
The aristocratic French writer known to her readers as "Gyp" was acclaimed by Henry James as "Mistress...of one of the happiest of forms" for her satirical dialogue-novels of fin-de-sie[accent]le Parisian society, but Octave Mirbeau declared her work "filth," as did Ezra Pound, who found it "unreadable...a sort of lady-like slither about sex." Gyp herself was as contradictory as the reactions she provoked. She wrote over one hundred novels, twenty plays, hundreds of articles, and four volumes of recollections, yet in 1908, only midway through her long career, she declared "What I insist on making explicitly clear for posterity is that I took no pleasure in writing." She denounced corsets and arranged marriages, but violently repudiated any suggestion that she might be a feminist. Politically, she was that most contradictory of contradictory figures, a right-wing anarchist. Called to testify at the trial of purported nationalist conspirators in 1899, at the height of the national disgrace of the Dreyfus Affair, Gyp defiantly chose to identify her profession not as "writer," but as "anti-Semite."

Who was this impossibly prolific, fanatically nationalistic writer and activist whose polemical novels and caricatures significantly encouraged the development of popular antisemitism in France, and who made such an extraordinary mark in an era when women were still denied the vote or access to public office? In the first critical biography ever written of this gifted and troubled woman, Willa Z. Silverman brilliantly illuminates the life and times of Gyp, otherwise known as Sibylle-Gabrielle Marie-Antoinette de Riquetti de Mirabeau, comtesse de Martel de Janville (1849-1932). Gyp's eccentricities alone make for colorful reading: she went to bed at 5 a.m. after writing all night with a goose quill dipped in violet ink, raised eyebrows with her outlandish sleeveless gowns that exposed her muscular arms, and was once doused with sulfuric acid by a mysterious veiled woman. At age fifty she fell victim to a bizarre kidnapping, and in 1932, at age 83, she retained enough of her old dramatic flair to inform one of her favorite correspondents, "I am not buried, but I am already dead, or almost, and I have come to bid you adieu." Drawing on a rich cache of previously unpublished correspondence and other documentation, Silverman probes beneath Gyp's many scandals to reveal the deep psychological and political conflicts in her make-up. A descendant of both the great revolutionary orator Mirabeau and the equally impassioned counter-Revolutionary Mirabeau-Tonneau, Gyp emerges as someone who defined herself, above all, by what she was not. Silverman shows how Gyp's anti-Semitism, anti-Republicanism, and her complicated rejection of both traditional femininity and feminism were rooted in her own self-loathing, and became the creative hatreds that drove both her life and work.

Providing a fascinating window into the deep-seated anxieties and political turbulence of turn-of-the-century France, Gyp is the unforgettable story of a woman writer whose passionate energy, cynicism, and cruelty left an indelible impression on her age.
Reviews of The Notorious Life of Gyp
Phoebe Adams in Atlantic Monthly 275.3 (March 1995) 129-30.Read Review
Whitney Walton in Nineteenth-Century French Studies 24.1-2 (Fall-Winter 1995-96) 234-35.
Eugen Weber, "The Countess of Hate," New Republic 212.7 (13 Feb. 1995) 39-41.
1 Dec. 1994 (Kirkus Reviews) Read Review
Robert Tombs, "Countess Bitch," London Review of Books 17.22 (16 Nov. 1995) 23.
"Une extravagante misogyne," L'Express 1 Nov. 1998. Read Review